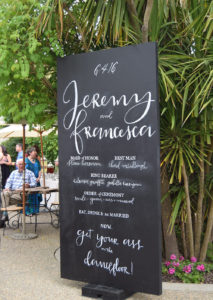 There is no lack of wedding checklists on the internet including our own Flying Cloud Wedding Checklist and the Wedding Wire Wedding Checklist.  These are an absolute must if you're not working with a wedding planner, and a great way to keep track of things even if you are.  The planning process should start at least 12 months before the wedding date, and there is a myriad of decisions to make.   If you haven't been closely involved in wedding planning before, you probably aren't even aware of all the decisions and arrangements to be made. I highly recommend downloading one of these checklists and editing it to make it your own.  Then check in at least a couple of times a month (more frequently the closer you get) to make sure that the items are getting done.
Generally, the first decision you should make is the venue or location of the wedding and reception.  Most likely, the location will dictate many of the other decisions: choice of caterer, day-of coordinator, decorations needed, etc.  However, before you make an appointment to view your first venue, you should review our "Checklist Before the Checklist" items below.  These will give you the criteria you need to start your wedding planning checklist and to decide which venues to view.
CHECKLIST BEFORE THE CHECKLIST
Indoors/Outdoors.    If you've been dreaming of a garden wedding and reception and will be traumatized by moving indoors, you need to pick and area of the country and time of the year when you can be pretty much guaranteed use of the outdoors. California is one of the few areas of the country where the weather is pretty predictable.   In fact, during our high season of June 15 to October 14, we've only had rain on one occasion in our 27 years of doing weddings.  A caveat, however, for the comfort of your guests; make sure there is plenty of shade or that umbrellas/tents can be brought in to provide it
Wedding venue or Beautiful backyard?:  Here in Sonoma County, many of the residents have beautiful, large properties or ranches.  I often talk to parents whose daughter would like to have the wedding on their property, and that certainly would make a one-of-a kind wedding.  However, when considering this option, make sure you weigh all the pros and cons of doing it at home.  Most likely, all the substructure items that a venue provides would have to be brought in or built for a wedding and reception of moderate size or larger.  These are items that are included at most venues:  decent bathrooms, catering kitchen, parking for all your guests and vendors, lighting and electricity. In many cases, the cost of bringing in the substructure items will be more than the cost of renting a wedding venue for the day.  This is before you spend a dime on the wedding itself.   So, before you decide that you're having the wedding in your backyard, make sure you do a thorough analysis of the time and costs.
Number of guests   Have a meeting with both sets of parents and come up with a preliminary guest list.  If you truly can't invite fewer than 200 people, there's no use visiting facilities that can only handle 100.
Budget.  If you have a strict budget to adhere to, make sure to ask the venue before you visit whether that is feasible.  Be sure and tell them what your budget includes beside the site fee:  furniture? Other rentals? Catering? DJ?  Cake?  Photographer?
Full Service or DIY?  This is more a range of choices versus an either or. On one extreme, there are venues you can choose where all the services are in house and they will take care of most of the choices for you:  coordinator, rental items, music, catering, decorations, officiant, cake, etc.  This will take much of the decision making off your plate, but will also leave you with few options.  On the other extreme, you can rent venues where you provide everything and make your own arrangements for all the vendors.  In the middle of these two extremes you will find venues that will handle the rental of the items for you (and you have many choices), and will have preferred lists for you to choose the vendors. Many also have on site people to guide you and may provide day-of coordination.    Decide how much planning you want to undertake yourself and then only look at venues that offer the level of service that works for you.
Your Vision   This will be specific to you.  If you absolutely must have vineyard photos, make sure that you look at venues that can provide that backdrop.  Must have a band?  Make sure that can be accommodated.    Your uncle brews his own beer and you must have that at the wedding?  Make sure that's allowed.  Here is where you should give some thought to and list your top "can't live without" items and do some research before you set up site visits.  Both of you should weigh in on the "must haves"!  They will probably be different!
Finally, consolidate all the decisions you've made into a your personal "Checklist before the Checklist", and fill out the worksheet for any venue that looks interesting.  Some of the information may be obtained from the venues' websites, but you will probably need to email or call the venues to get most of the questions answered.  Once you've answered the questions from this preliminary Checklist, you'll have a short list of venues that are worth a visit!